Pets Welcome at the Uptown Ritz Residences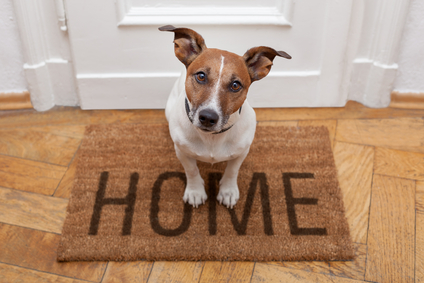 Pets bring more to our lives than just a few laughs -- they give us a better quality of life and not a few health benefits. Lowering blood pressure, cholesterol and triglyceride levels are just some of these benefits. A pet's need for exercise complements their human's own need for exercise and time outside in natural surroundings – clearly, a win-win situation all around.
Condo living is increasingly popular, for several reasons. The abundant supply of affordable, well designed and conveniently located residential towers has contributed to this trend. Compact living is highly attractive for office workers who want to live close to their offices, to beat the increasingly congested roadways which make for a torturous commute. It is also a welcome option for empty nesters who don't need the wider spread of a home left empty by children who've grown up and begun leading lives of their own. Knowing that quite a number of individuals consider their pets as "man's best friend," some real estate developers have been careful to include pet-friendly features in their high-rise residential towers and association bylaws. With the almost universal appeal of pets who readily become favoured companions in such condo units, it pays to know and understand how property managers and building administrators, consider and deal with pets.
Most commonly allowed pets are caged birds, small animals like rabbits or hamsters, even goldfish, while those not typically allowed are felines like tigers and lions, canines like foxes and wolves, livestock, reptiles, exotic and wild animals like tarsiers, flying lemurs, and of course, those that are endangered like the Philippine Eagle. For dogs, there are certain breeds that aren't allowed in condos due to their being very high-maintenance, over-active, unsociable or aggressive. These typically include Rottweillers, Pit Bulls, German Shepherds and Doberman Pinschers, to name a few. On the other hand, those breeds that are welcome include Bulldogs, Toy Poodles, Yorkshire Terriers and Pugs.
There are a number of things to keep in mind for would-be and actual pet owners, as you consider buying or moving into a condo. The size limits imposed by property managers is important to keep in mind -- be sure to keep within the defined size limits. Typically pets can be up to two feet when standing, should weigh less than 11 kilos, live in cages not exceeding one cubic meter. Aquariums are usually limited from 10 to 40 gallons. Breed, height and weight aside, the number of pets that each resident or tenant can keep is limited to one pet per unit, excluding aquarium fishes which aren't subject to this restriction by quantity. Another restriction for pets is the requirement for their registration with property management, as well as being vaccinated at the owner's or tenant's expense.
Bottom line is that unit owners/residents have full responsibility for their pets – they should be managed properly, even trained especially if it's a dog. Should there be any property damage or injury to anyone in the building, you need to pay for the repair or hospitalization of the damaged/hurt people. But with the joy that a pet brings, these restrictions will not be too hard to consider and even comply with.
Among the more popular residential areas for pet owners is The Fort or Bonifacio Global City. There you can find more than 200 hectares plied with wide roads, green pockets of relaxing parks, glistening high-rise office buildings, stimulating commercial centers and a number of residential enclaves. The Fort is a preferred urban residential habitat, offering prime amenities for in-city living. The flooding of streets that has plagued several areas of Metro Manila, is markedly absent from the streets of The Fort. This is due to an underground five-story tank that collects rainwater that will eventually be flushed out to Manila Bay after the heavy rains. There is also a marked absence of power lines, water meters and gas pipelines in The Fort. Thanks to the effective partnership of government and private firms involved in the development of BGC, electricity is supplied to buildings through hidden underground wires, resulting in the city's clean landscape. Also buried underground is the gas pipeline network, together with fibre optic communications network for high-speed internet, VOIP and local phone lines to businesses and residences.
Megaworld Corporation, one of the Philippines' biggest and most prominent property developers, continues to sustain its reputation as the country's biggest condominium developer by having an impressive portfolio that covers vertical structures, residential houses, township communities, hotels, and multi-purpose buildings that primarily caters to the middle and upper class market. Not content with having a large property bank, Megaworld Corporation makes sure to include lush verdant greenery to provide fresh natural ambient feel within its many urban settings, as well as providing free interior design services for its investors and residents.
In keeping with Megaworld Corporation's mandate to provide mixed-use developments in prime urban locations, it has set invested in 6 upscale condominium towers in Bonifacio Global City (aka BGC, Global City, and The Fort), one of the most progressive business districts, runs parallel to EDSA. There you can find more than 200 hectares plied with wide roads, green pockets of relaxing parks, glistening high-rise office buildings, stimulating commercial centers and a number of residential enclaves. Not a few corporations, both local and multinational, have bought property at The Fort with plans to relocate their global, regional or national head offices in this central business district. As such, The Fort is conveniently located not too far away from Manila's domestic and international airports, and a number of central business districts including: Makati, Rockwell Center, Ortigas Center and Pasig. Among the country's leading healthcare facilities is St. Luke's Medical Center at the Global City. There are a good number of tier one educational facilities and schools in the area including: International School Manila. British School Manila, Manila Japanese School Manila, Korean International School, STI College Academy, Makati Gospel Church New Life Christian Academy, Global City Innovative College, and Treton International College.
Comes the Uptown Bonifacio Township in Bonifacio Global City, a P65 billion development spread over 15-hectares with a modern cosmopolitan theme. It contains several anchor establishments including the upscale Uptown Place Mall, as well as popular nightspots -- Valkyrie, Brewery, Revel and The Palace. Providing high-end hotel type condominiums and amenities within the area is Uptown Ritz Residences, a 45-storey high tower with a glass and aluminium façade that is also pet friendly. It features 5 high-speed elevators, and a separate service elevator, fire deterrent equipment such as fire alarms, smoke detectors, and sprinkler systems in all common areas. Ensuring 24/7 monitoring of all building facilities is a security command center, and CCTV of selected areas and retail shops.
Units at the Uptown Ritz Residences are configured as 2- to 4-bedroom residences, running from 78.80 sqm to 182.60 sqms. Included are standard condominium features like entrance panel doors with viewer, individual electric and water meters, provision for telephone and CATV lines, provision for hot and cold water lines, as well as a provision for a multi-point water heater. Units will have a kitchen with modular under counter and overhead cabinets, and the bathrooms will have partial glass shower enclosures in the toilet and bath areas. Standby power generators for common areas and select outlets in the units, will likewise be provided. Flooring will be comprised of ceramic planks for bedrooms, ceramic flooring for living, dining, kitchen, and the toilet and bath areas.
At the Ground Floor of Uptown Ritz Residences will be a residential lobby with reception counter and lounge area, and Individual mail boxes with keys. Specialty retail outlets will be available to provide shopping convenience at the ground floor. There will 2 decks of amenities at the 7th floor. On the lower deck, can be found a lap and kiddie pool, lanai and outdoor area. Pool and wooden decks, a children's play area and nursery room, will also be found in this area, together with a spacious function room and business center. On the 7th floors' upper deck will be the fitness center, which opens into the stunning vista of One Uptown's rock formation and 6-storey water cascade.
There are many distinctive architectural and amenity-rich features at the Uptown Ritz Residences, but for pet lovers these would be secondary to the accommodation and acceptance of man's best friend in this luxurious tower. For details on next steps to enjoy the dynamic lifestyle at Uptown Ritz Residences, feel free to call, email or chat with us to find out more about this property (contact details).